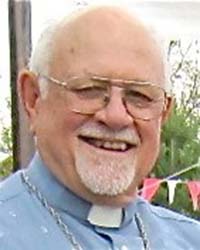 Father Matthew Robbertz
Magnificat Spiritual Director
Spiritual Director
Father Matthew Robbertz came to Canada from Holland in 1961, assigned by the Dutch Bishops to assist with the spiritual care of the many new Dutch immigrants in the greater Toronto area. His term was to be three years. However, getting involved with Youth Corps and studying in the summers in the field of Religious Education, kept him in Canada. That was his choice. For five years, he was attached to St. Dunstan's Parish in Scarborough while also being immigrant chaplain.
After eleven years, he took a sabbatical time. He took some training in psychotherapy and practical sociology and did courses in spiritual direction and hospital chaplaincy. In January 1974, the chaplain of Providence Villa retired and Father Matt was named in his place. However, he asked to go back to the parish and in September of 1974, he became the founding pastor of St. Elizabeth Seton Parish in Newmarket.
After twelve years, he retired from official work, wanting to get away from structure, organization and paperwork and pursue a more free involvement with people. He assisted in surrounding parishes and particularly at Sacred Heart Parish in Uxbridge. Magnificat Charismatic Prayer Community at Regina Mundi asked for help with the Youth Camps, with Masses and to be the custodian of the Blessed Sacrament. They called him Spiritual Director. Circumstances at Regina Mundi and Magnificat have brought about a greater involvement than was originally foreseen.