Regular Activities

Saturdays
Saturday Holy Mass to be celebrated by Rev. Fr. Matthew Robbertz starts at 1:00 pm followed by Holy Rosary, Divine Mercy Chaplet, praise and worship
1:00 p.m. – Saturday Mass
2:00 p.m. – Holy Rosary
2:30 p.m. – Chaplet of the Divine Mercy
3:00 p.m. – Praise and Worship (ACTS)
4:00 p.m. – fellowship at St. Joseph Hall
DEVOTION AND CONSECRATION TO THE IMMACULATE HEART AND MARY

Every First Saturday of the month, 1:00 p.m. to 4:00 p.m. After the Saturday Holy Mass we pray the full Holy Rosary including various scripture passages contemplating the life of Jesus. The rosary is the most powerful prayer of salvation and granting of graces, the mightiest weapon against the enemy. The enduring petition of our community is that we may respond more fully to God's plans for us at Regina Mundi.
Devotion to the Divine Mercy
One of the means that we promote the devotion to the Divine Mercy is through the pilgrim image as the Lord appeared to St. Faustina. He said, "I am offering people a vessel with which they are to keep coming for graces to the fountain of mercy. That vessel is this image with the signature, "Jesus, I Trust In You" (327) … I desire that this image be venerated first in your chapel and then throughout the world (47, Divine Mercy in my Soul, St. Maria Faustina Kowalska)
Anyone who is interested to have our pilgrim image visit your home for a period of two weeks, please contact Leticia Leonardo to arrange a schedule and for more information. Or call
Leticia Leonardo – 905-820-6584
WEDNESDAY ADORATION
Adoration of the Blessed Sacrament, one of our treasures.
Regina Mundi is a place, but we trust that what we are
doing there is the work of God, giving His people an
"oasis of prayer" in the desert of the modern life.
The Magnificat House chapel is being renovated and to be called
the Divine Mercy Chapel of Adoration.
We have received an official letter of Cardinal Collins with the
permission to have the exposition of the Blessed Sacrament for the
Adoration of the faithful every day from Monday to Friday.
We will determine the exact hours when we open the chapel
hopefully this fall. We need to have people who commit to one
hour per week and our bold plan is to recruit a "legion" of the
nearby Highway travellers to make a 15-minute visit once a week.
What a wonderful gift!
For this summer until the opening of the chapel, we keep the
Wednesday as our mercy day of adoration. But because there are no
people coming in the morning, we reduce the time to four hours,
that is from 3:00 p.m till 7:00.p.m. We start with the hour of
Mercy (3:00 p.m. to 4:00 p.m.) and have the guided Holy Hour at
the end (6:00 p.m. to 7:00 p.m.).
The Magnificat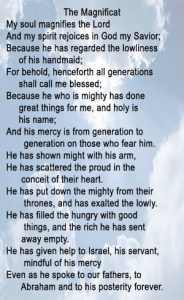 10 Commandments