Facilities
The Regina Mundi Retreat Centre has spacious cluster of seven specialized buildings. Each has kitchen and complete washroom facilities. Buildings are wheelchair accessible. Catering is available on special request.
You may want to organize your group for a restful, creative time at Regina Mundi. You can organize to stay overnight and have workshops, small group discussions and presentation to stimulate reflection.
The simple, unspoiled, country atmosphere suggests a natural sacredness that leads to personal reflection and group solidarity.
Oratory of the Divine Mercy

Terms of Payment: A 50% deposit of the total rental fee plus a security deposit of $500.00 required immediately with the signed contract. Balance must be made upon check-in plus 13% HST. 20% of total rental fee required in the event of cancellation.
Download –Terms and Conditions for Facilities Rental  
For details and booking, please contact Regina Mundi
General Inquiries and/or Facilities Bookings:
Annie Lapid – Tel:  (905) 478-4264 or (905) 201-7254
Email: magnificatreginapc@gmail.com
The Magnificat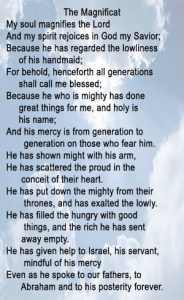 10 Commandments