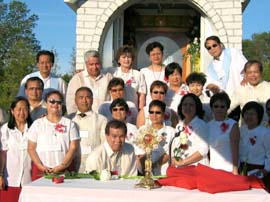 About Regina Mundi
"How it a

ll started"

 The Magnificat Community is a Roman Catholic lay community under   the authority of the Archdiocese of Toronto. It is an intercessory prayer   ministry and a pastoral team that conducts life in the spirit and growth in   the spirit seminars, marriage enrichment seminars, and recollections on   a regular basis. Very recently the community also organized a youth   group.
The Community's vision is to lead people into a deeper Christian life in the power of the Holy Spirit. The aim of its membership is to be fully committed Disciples of Christ not only by work, but more so by the witness of their lives. The community evolved from the Buklod ng Mahal na Ina, a group co-founded by Mrs. Donna Eusebio (Mommy Donna) and Father Teo Rustia, a visiting priest who at that time, in 1987, was with the military diocese of the Philippines.
The Buklod was composed of a number of Filipino families dedicated to propagating the devotion to our Lady of the Miraculous Medal, by praying the rosary in private homes.
It was not until 1990 when the group, which had grown to 30 buklods, embraced the charismatic movement and organized themselves into a more cohesive community.
Today, over twenty years and two name changes later, this prayer community is a well established charismatic group. Although it is still made up of a majority of Filipino families, its invitation is open to everyone sharing its vision and most of its activities are open to all.
In 1987, Delfin & Dionisia Eusebio invited Fr. Teo Rustia to conduct "Cursillos En Cristianidad" for Filipinos in Toronto, Canada. Although the planned seminar did not materialize, Fr. Teo was able to give talks on charismatic life and celebrate charismatic masses. These led to another invitation for Fr. Teo to return the following year to minister to the spiritual needs of Filipinos in Ontario. A small group who followed Father's activities formed a prayer group they named "Buklod ng Mahal na Ina." Members of the group included Jess & Norma Carlos, Joe & Annie Lapid, Boy & Ely Ruperto and Delfin & Donna Eusebio. In 1992, Fr. Teo had the opportunity to stay for six months to study at the University of Toronto. This became the period of intense activity and expansion of the small group. Through seminars and masses, the group grew in numbers and an organizational structure began to take shape. Romy and Patti Candido were designated to take charge of the group. Shortly thereafter, Johnny and Nanette Cruz were appointed as the first Presiding Elders and the organization assumed the name Magnificat Catholic Charismatic Prayer Community (hereinafter referred to as "Magnificat").
In addition to holding "Life in the Spirit" seminars, Magnificat sponsored Marriage Enrichment Retreats and other activities aimed to promote the spiritual growth of community members. These two activities led to a surge in the membership of Magnificat.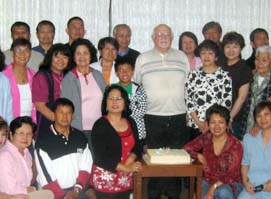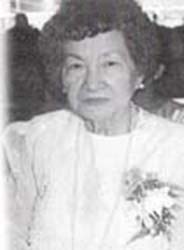 Accreditation as a religious prayer group was accomplished on February 4, 1997 when the Archdiocese of Toronto gave Magnificat formal recognition and approval of its apostolate as a "community dedicated to the promotion of spiritual life, family life and Church teaching." In October of the same year, the Archdiocese assigned Rev. Fr. Stephen Somerville as chaplain for Regina Mundi.
 By 2000, the Magnificat Charismatic Covenanted Community had obtained its status   as a charitable organization under the leadership of presiding elders, Felix and Marie   Morales.
 On July 1st, 2003, the oratory of Jesus, King of Mercy was inaugurated, thereby   dedicating Regina Mundi as a future shrine of Jesus, King of Mercy.
Current elders are Joe and Annie Lapid.
More about us, click here.